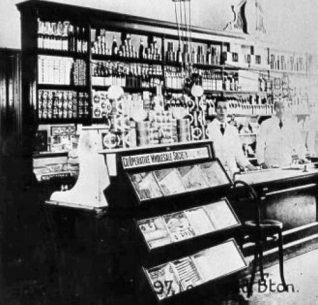 Royal Pavilion and Museums Brighton and Hove
Trolley system for payments
When I was about 11, in 1933, my mother took me to the Co-op in London Road, to buy my first pair of long trousers. At that time jeans had not yet been adopted for daily wear, they were just overalls for work. I was fascinated by the overhead trolleys that carried money from the desk where the purchase was made, to the central cashier. Apparently the cost of cash registers and training for the many cashiers that would be needed was too high, or the shop-workers could not be trusted with the job, so the management decided that a single cashier in the middle of the store was better.
Money sailing through the air
The shop-worker had to place our money and the bill she had written out, in a small cylindrical wood pot and attach it to the trolley above her head. Then she pulled on a cord, which released a spring of some sort, that sent the trolley sailing along a wire, over to the cashier's station. A few minutes later, back came the trolley and the shop-worker removed the pot and emptied the contents on to the desk, giving us the change and a copy of the bill. In those days a pair of boy's pants cost one shilling, eleven pence and three farthings. Just like now, everything was not quite a whole number of monetary units, but there was no sales tax to calculate.