No supermarkets for my mum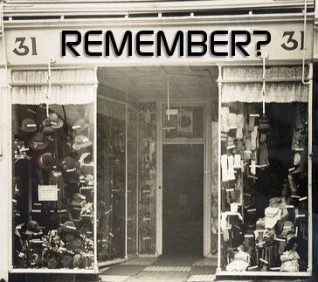 Many different shops
I remember a lot of the old shops of Brighton that I visited until I moved away in 1973 aged 27. There was Woolworths with big brass door handles, which was almost opposite Bellmans; of course there was the Home and Colonial, Maypole grocers, Sainsbury's, and the Post Office in Oxford Street. There was a shop with lots of biscuit boxes on the edge of the pavement somewhere between Oxford Street and Baker Street. Bradshaw's was the place for toys; do you remember the Dewhurst butchers? I also remember Blackman greengrocers as I worked on their market garden for more than two years at Falmer.
No supermarkets for Mum
Do you remember Collins model shop; Martin's deli and chip shop in Lewes Road and of course the Co-op. Shopping at Roslings was like going into a 'Grace Bros' type shop with its overhead money railway. I can also remember horses being shod in the blacksmiths at the London Road end of the Open Market. I have fond memories of walking around every Saturday with my Mum to fetch the shopping. We went to Lewes Road each week, London Road every fortnight and Western Road for a special shopping trip a few times a year. My mother would never use a supermarket and rarely a bus, and all the shopping, for five, was carried home on foot!
Do you remember going to any of these shops? What about the post office in Oxford Street – did you go there? If you can share your memories with us, please leave a comment below.