A Brighton Housing Trust development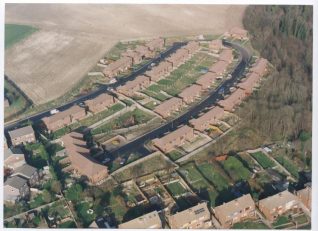 Submitted by BEP Ltd with permission from Philip Lane Photography
A housing estate built on a 2.02 hectares greenfield site located in central Brighton, (east of Brighton University). It is bounded by woodland along the eastern side. The northern section is open farmland and it adjoins to two existing residential estates along its southern and western sides.
Rising accommodation needs
The site was owned by the then Brighton Borough Council and was awarded to Brighton Housing Trust with a view to be developed into a low cost housing estate. That was to respond to the rising needs within the borough for housing accommodation.
Project completed in 1995
The project was designed by Bedford Eccles Partnership (now known as BEP Engineers Ltd) and DRP architects, and built by Cheesmur and Sons. All these companies are local to Brighton. The actual building commenced on Jan 1994 and the handover of the first houses took place on December of the same year. By December 1995 the project was fully complete.
Fifty two terraced units
The estate comprises 57 two-storey terraced units (2-3 beds) with low pitch and gabled hipped roofs – two of which are designed for disable residents. It is served by an access road which was adopted by the local highway authority and became an extension to Lynchet Close. It is provided with curtilage parking and a playground which is available to all residents.