Street games in the 1930s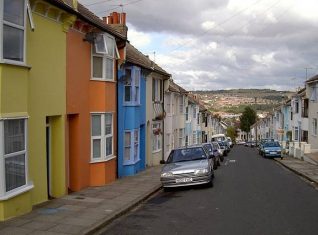 The residents of Lynton Street, where I was born and grew up, were a varied community but the majority were young families. Most of the men had steady work, and at that time fathers were recognised as the breadwinners and the mother's job was to look after the home and bring up the children.
Haves and have nots
Human nature doesn't change. These roles came naturally to some, and others found commitment and responsibility difficult. As a consequence, Lynton Street had its share of have and have-nots, but most were hardworking, honest and respectable people who brought their families up the same way. In the thirties it was a struggle to make ends meet. Some children were far from angels but there wasn't the bad language that is commonplace today and the only graffiti was in marking out in chalk the squares for hopscotch, which disappeared with the first shower of rain. There was no vandalism and most front doors were only closed at night, and no-one thought twice about leaving the key on a piece of string hanging on the back of the door.
Respecting each other's territory
Each street had its own crowd of children and we all respected each other's territory. We all mixed and knew each other at school and there was no real animosity. Occasionally a fist fight broke out between boys in the playground but it was generally bravado and soon stopped by a teacher.
Children's games
The games we played in the street varied according to age. The little ones played with dolls and dolls prams. If an old sheet or towel was available, with some ingenuity this could be rigged up to make a house. Football was a favourite for the boys. If no one had a football, kicking an empty can about was the next best thing. Tag and hide and seek were good running about games. Marbles, conkers, whip and top, yo-yo and skipping all had their season and biff-bat was a craze at that time. On Good Friday it was traditional for the grown-ups to come out and join in the skipping with a long rope that reached from side to side of the street. This length of rope was quite heavy to turn. Children and adults ran in and out of the turning rope. I have always understood that this tradition came from the fishing industry that had once been so important in the old town of Brighthelmstone.
Exchanging ancient comics
Occasionally an older girl organised everyone into games such as 'I Sent a Letter to my Love' or 'Here We Come Gathering Nuts in May'. There was much visiting of other children's homes to exchange ancient comics which did the rounds until they fell apart. Boys were in the habit of opening their friend's front door and yodelling into the passage, 'Oo Ay Charlie (or whoever) you comin' out'. If a break in a game was needed someone shouted 'fainites.' This is an old Sussex word that meant 'truce', but what the expression really was, or where it came from I never knew.
More sophisticated games
As we grew older, the games became more sophisticated. We spent hours playing film stars. A chosen person gave the initials of a famous star. The first to guess correctly took the next turn to choose. Although we may not have actually seen the films we knew all the star names from the cigarette tab cards. Sometimes a boy, who had tab cards that he didn't want any more, shouted 'scrambles' and boys came running from all directions. The unwanted cards were then thrown up into the air to be kept by whoever picked them up. Sometimes a wanted card could be gained in this way, but more often they were the cards that everyone already possessed.
Running errands
Some children ran errands. A reliable child might be required to go to the shop with a message on a piece of paper and the money wrapped up in it. This errand runner could be rewarded with a small coin or an apple. Some residents were able to afford a few coppers to have a particular child to run their errands on a regular basis. It must be remembered that the 'shops' were all around us and it probably meant going no further than the next corner.
The lamplighter
At the end of what seemed long days, when dusk fell, the lamplighter arrived on his bicycle with a long pole with a hook on the end to switch on the street lamp and little groups of children gathered in the lamplight until their mothers called them in.