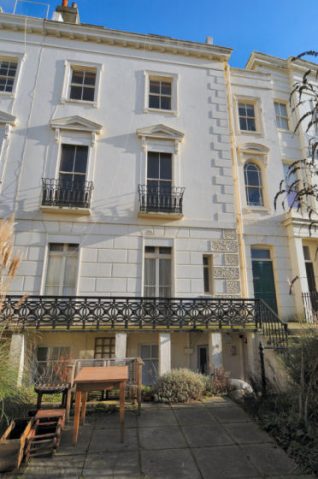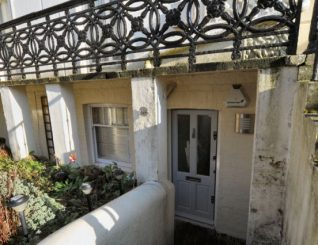 A basement flat
I was born in Kilmarnock, Scotland on 1st July 1944; apparently we didn't remain in Kilmarnock too long. By the time my sister Ann was born in August 1947, we were living in a flat at 32 Montpelier Crescent, in Brighton. Our flat was in the basement of a two-storey house in what used to be the servants' quarters.
A great place to play
Montpelier Crescent is shaped like a half-moon or capital "D", with magnificent multi-storey Edwardian/Victorian era houses on the exterior perimeter of the street. All the houses look out onto the park which occupied the central area. When I lived there, the park was a great place for games and for scuffing through piles of deciduous leaves in autumn and winter.
A tin bathtub by the fire
Our flat was actually below garden level, and although it had windows there wasn't much of a view. There was a long staircase leading up from our basement level up to the ground and first floors where a well-to-do family would have lived, when servants were employed in more grandiose times.  Mum used the staircase as a storage area when she preserved and bottled fruit and vegetables. Our flat didn't have a bathroom. We had a regular weekly bath-night, when Ann and I were bathed in a big tin bathtub that was placed in front of the fireplace.
Playing truant
I initially attended a school that was situated down towards the seafront; unfortunately I can't remember its name.  I'm not sure why I did it, but I played truant there, and can recall wandering along the beach on a bleak, cloudy day. Later on, Ann and I attended Stanford Road Public School, which was across the nearby major crossroads at Seven Dials.
Latchkey kids
Ann and I were latchkey children by now (perhaps even before the term was invented) as both Mum and Dad both worked.  I don't think it did us any harm. After school from about the age of about eight years, one of my tasks was to wash and peel the vegetables for dinner.  Even with chores to do there was still time for mischief. I remember getting into trouble because I'd connected the vacuum cleaner hose to the cold water tap in the kitchen. Mum was furious and threw whatever came to hand at me as I hid, petrified with fright, behind the settee.