Development and ownership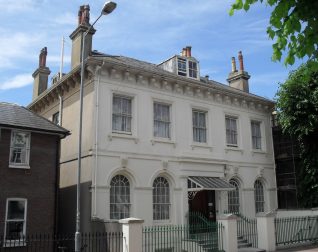 The Voice of Hassocks - Wikimedia Commons
Former Thomas Kemp land
Montpellier Terrace (as it was named until about 1850's) had only two identical red brick villas built on its south side Summer House (no 15) and Montpellier Lodge (no 16) in 1823/4, both built on former Thomas Read Kemp land. Then Summer House was occupied by Read Kemp's solicitor Henry Faithful, and Montpellier Lodge by Pryce Bowen Esq. They both had large ss west facing walled gardens with stabling beyond accessed from Hampton Place. The six cottages Nos 91 to 96 inclusive Montpellier Road, were part of the same development, see the similar architectural proportions and wooden roof brackets, and are mentioned in the deeds of Montpellier Lodge. These were sold as one lot in 1851 for £3,500.
Montpellier Hall built 1848/9
Montpellier Hall was built for the brewer Henry Smithers in the west part of the garden of Montpellier Lodge in 1848/9 by A.H.Wilds. Both the Hall and the Lodge have LL in their names not a single L. By the 1880s Henry Willett (previously known as H. Catt, the brewer), occupied the Summer House; Lady Amhurst the Lodge, and Sir Joseph Ewart, the Hall. Robert Heather eventually bought Summer House and changed its name to Arnold House. It was turned into an hotel which eventually expanded into Montpellier Lodge; after the war it also owned 89 Montpelier Road and houses in Montpelier Place as annexes.
Arnold House Hotel
When Robert Heather died, Ivy Heather Hazel Lickfold was left the business. She with her husband Douglas Lickfold, proceeded to demolish number 15 Arnold House and transferred the name to Montpellier Lodge, which they already occupied. Subsequently, number 16 become the Arnold House Hotel at this address. Rice & Sons built Heather Court which was completed in 1971. Named after Robert Heather it was designed in a cross in his memory.Click on image to open large version in new window.
Montpelier & Clifton Hill Conservation area
This modern development was so much objected to by residents, that it was one of the catalysts for the formation of the Montpelier and Clifton Hill Conservation Area by Brighton Corporation. When the Arnold House Hotel at no 16 Montpelier Terrace eventually closed in the 1980s, it passed through different hands including Alpine Construction and eventually to a John Bushell, who with his business partner, converted it into flats. That is when the name was reverted back to the original Montpellier Lodge. The building was listed Grade ll in 1951 which is the main reason why it has survived.