Happy memories of hard times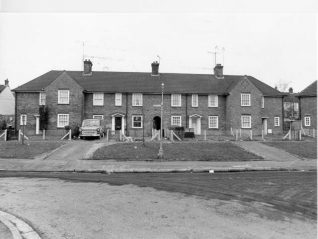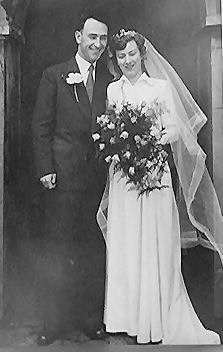 From the private collection of Ron Spicer
Newick Road is in the Moulsecoomb housing estate and ends where Ringmer Road begins. Just round the corner to the left at the end of the road, there used to be a wooden paling fence separating it from the lane leading from the main Falmer road, and under the railway arch to the fields beyond. The fence was never complete! It was always broken at some point to afford access.
The Webb family
36 Newick Road was the Webb's house. Harry Webb worked at Brighton Railway Station for the Southern Railway Company and later in life his youngest son Gordon also worked there, eventually becoming the Station Master. The oldest child, Eileen, I know little of. The other brother, George, was one of the Allen West wartime employees. George became a friend of mine for many years until I joined the Fleet Air Arm then afterwards moved to Eastbourne.
Money in short supply
George was my best man at our wedding in Falmer Church. He arranged for whatever drinks were left over to be returned to the Swan pub on a cash return basis. At that time, money was still in short supply! The reception was in the village school hall where a wood fire had been lit to help warm the guests. It was freezing with snow on the ground outside at the end of March. We were smoked out, because there was something wrong with the chimney. I had the occasional phone chat with George over the years. Unfortunately, without me having been close enough to him for his last moments, he died
A calamitous loss
Across from Newick Road was the 'Cinder Path'. However, it wasn't a cinder path at all because it had been tarred over, but the name persisted. I remember one of the girls from the Washington family at Ringmer Road was running down the Cinder Path when she dropped a florin that was to be used to get shopping and couldn't find it. Calamity. That was a lot of money. Many people turned out looking for it and dad Jack joined in when he returned home with his old motor bike that had carbide gas lighting. It was all to no avail, and the florin was never found.