Remembering our neighbours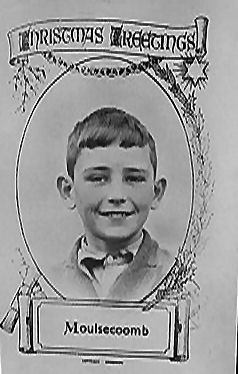 From the private collection of Ron Spicer
Our neighbours next door at 32 Newick Road were the Moppetts. 'Old Moppett' as he was called, was related to a sweetshop owning family.  He created his own threesome business, using three wheeled barrows which he'd made just wide enough to get through the archway between our two attached houses. He sold chopped firewood, fish, and sweets. Secretly, the stuff would be sold from the house. Running a business from a house without paying business rates was illegal, but nobody cared. Mrs Moppett was a very large beefy woman with threatening breasts and huge folded meaty arms, she always spoke in a very loud commanding voice.
Dixy was a terror
Next to the Moppetts were the Deans. Dixy was a terror! Same age as me, he'd be up to all sorts of mischief – and I often joined him. His family were into anything possible to make money. They made toffee apples and toffee balls and one of them worked at Arthur H Cox's factory in Lewes Road where, in later years, I discovered there was a large sugar stock.
My first cigarette
At number 24 Newick Road were the Hodges. Ronnie Hodges introduced me to my paper round and how to make a little cash provided the school didn't find out. He also introduced me to my first cigarette. His mother smoked and often gave him some. It took a few more years for me to fall foul of the stupid, injurious habit which I later discarded when education dictated the necessity.
A friendly family
At number 16 were the Browns. Mr. Brown worked at the Gas Company. Often he had a large Gas Company van parked outside the house for the night. A friendly family with a very large shed in the back garden, they allowed all us local kids to meet together inside it during inclement weather where we could play cards or five stones using pebbles from the beach or anything that could be invented for the occasion. The oldest boy, Tommy a fiery yet friendly lad, became an air gunner during the war and like many aircrew didn't survive.