Childhood memories of the 1940s/50s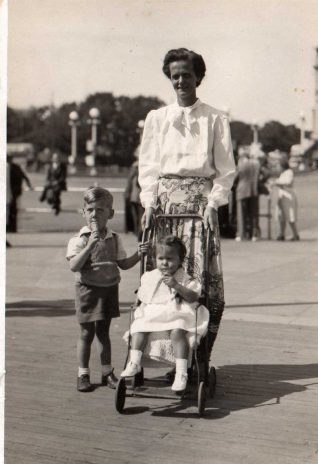 From the private collection of Roy Davis
I have always considered myself doubly fortunate in the circumstances of my early life. Firstly,  I had an extremely happy childhood, and secondly, I was born and raised in Brighton in the county of Sussex.  The second event may never have occurred as it did, were it not for what I believe to be my incredibly good fortune.
My mother was bombed out
My mother, having been bombed out of her house in Caterham, Surrey, was evacuated in 1944, with my brother and elder sister to the coastal resort of Paignton in Devon.  My father was serving with the army in Italy and mother would not let her children be parted from her, and spent by all accounts a rather unpleasant time in an equally unpleasant hostel on the 'English Riviera'.
Making haste for Brighton
My maternal grandparents had at this stage of the war, having also been bombed out of their home, re-located themselves to Brighton. On discovering that a house had become available for a reasonable rent and which was just two doors away from them, my grandfather (bless him) contacted my mother and told her to "make haste" for Brighton. Mother did make haste and the family took up residence at 69 Newmarket Road, a former dairy, in the autumn of 1944.
Having my photograph taken
My very first conscious thought was of having my photograph taken, sitting on a table in my grandparents front sitting room. Living only two doors away, I would make use of every opportunity to visit them.  I was told later that this usually entailed sliding down the hill on my bottom, then stretching my arms up to my dear grandmother who would  pick me up and carry me indoors.  I might add that later, when I could walk, I used more conventional means of locomotion! Life, for me anyway, was idyllic and growing up in the 1940's and 1950's in a place I loved, with the South Downs and strangely enough, Brighton Extra-Mural cemetery on my doorstep.  I could not have wished for a more perfect playground.
Nostalgic for those halcyon days
Nostalgia for those days has recently begun to surface and I am sometimes transported back to a time when the weather was always sublime; bobbies wore white helmets during the summer months; the winkle man parked his barrow at the bottom of the road; my little sister and I made lemonade out of sherbet and water; blackberrying in the cemetery; ration books and Palm toffees; being fascinated when the trolleybus driver had to hook the pick-up arms back onto the overhead wires with a long bamboo pole! I remember the wonderful smell of crepe on my new summer sandals; running my four-wheeler down Newmarket Road; the smell of Ronuk floor polish and listening to my mother play the piano after the polishing was done.
In those halcyon days I enjoyed having real peace and quiet, time to think and a feeling of always being safe.  But most of all, I remember experiencing a sense of 'belonging' which I have never been able to repeat anywhere else.