Named for Nelson's victory in 1798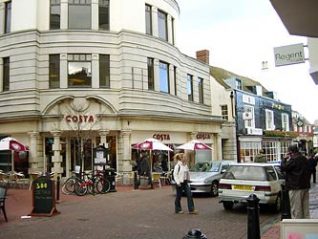 Originally known as St Bartholomew's Lane, Nile Street was renamed following Nelson's victory over the French at the Battle of the Nile on 1 August 1798.
The narrow street was pedestrianised and widened in February 1989 in conjunction with the Market Street scheme, and is now dominated by the Art Deco shops and offices of the Nile Pavilions, designed by the Robin Clayton Partnership and erected in 1987-9.
No.1 is a listed building forming the rear part of nos.22-23 Prince Albert Street.