Original site for brick-making manufacturers for Brighton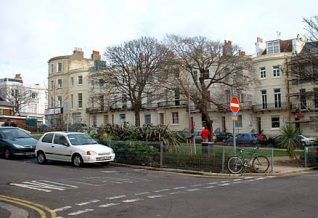 Photo taken by Bill Maskell
Mary Allan, ceramicist asks on Monday, October 29, 2001:
"Please include Norfolk Square in the website. The area of Norfolk Square used to be called the 'Blacklands', as it was the original site for the brick-making manufacturers for Brighton. Old maps indicate where most of the work was contained, from the seafront at the location of Embassy Court, Golden Lane and up to the Square itself. There were many families living locally who were involved in the trade until it moved eastwards to Adelaide Crescent, as Brighton spread its original boundaries. I'm trying to ascertain the site of the original kilns to help me with a sculptural proposition and would appreciate any help and information."
Geoffrey Mead, local historian replies:
"Dear Mary, I wrote the little booklet on the Blacklands that you may be referring to. The site of the kilns is not known and the information you have is about all there is! Basically, the site was between the present Western Road and the beach, and west from Bedford Square. There were kilns reported at a later date ( the early ones are from 1720s, or possibly earlier, until the 1820s) when St. John's Road west of Palmeira Square was a brick-making area in the 1830s -1840s. I have seen one undated painting that shows kilns where Brunswick Square is now. This possibly dates from the late 18th century.
Brighton did not spread its boundaries. The housing spread across the parish boundary into Hove when Brunswick Town was created. Brighton only gained Hove in the late 1990s."