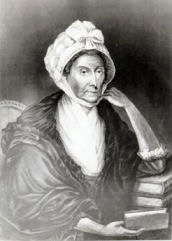 The original chapel of the Countess of Huntingdon's Connexion, was founded in Brighton in 1761, today the sect has 23 congregations in the UK. The Countess was born Selina Shirley in 1707, and married the 9th Earl of Huntingdon in 1728. Having joined the Methodist Society in 1739, Lady Huntingdon went on to form the Countess of Huntingdon's Connexion which was basically a Calvinistic movement within the Methodist church. She played a prominent part in the religious revival of the 18th century.
Countess of Huntingdon: Royal Pavilion and Museums Brighton and Hove.
---
Click on the photographs to open a large version in a new window.
The popularity of the 'new faith'
Countess Huntingdon came to Brighton in 1755; she bought a house in North Street and built a private chapel in its grounds. The Countess hoped that the sea air would be beneficial to the health of her ailing son; sadly both her sons died of smallpox. Returning in 1760, she invited the Rev George Whitfield, a very famous Methodist preacher to speak in Brighton. As the popularity of the 'new faith' grew, the Countess opened her small chapel to the public. The congregation continued to grow and the chapel was enlarged many times over the years. Eventually in 1822 the Countess's former residence was converted into a long gallery and a Doric entrance was made in North Street.
Click on the photographs to open a large version in a new window.
Church entirely rebuilt in 1871
In 1870-1 the church was entirely rebuilt by John Wimble in Early English style in flint and grey stone. There was a graceful north-eastern spire, and a triple-arched entrance supported by granite pillars with elaborate capitals, while the interior had galleries on all sides, excellent stained glass windows, a marble pulpit, and room for about 900 worshippers. The new church opened on 20 March 1871 and was initially well-attended, but eventually congregations dwindled and it proved impossible to keep the building in good repair. The church closed in September 1966 and was demolished in February 1972, although the spire had been taken down in November 1969.
Click on the photograph to open a large version in a new window.