What a disappointment for visitors!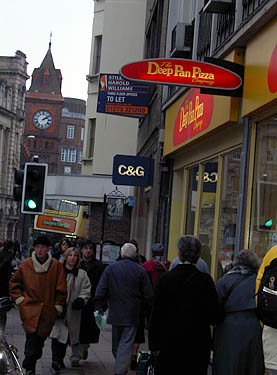 There are many contenders for the worst street in Brighton and Hove! At present North Street, apart from a couple of buildings, must be pretty low: unoccupied buildings, unimaginative modern architecture, fly-posting, dense traffic, and cheap eating places.
Principle trading street
Only recently it was one of the South's principle trading streets with character and style: Hanningtons, Vokins, the Essoldo cinema, the Princes News Theatre, Clarence Hotel (where I had my stag night in 1972!), the Red Lion pub.  All gone or out of original use.
Connecting the city
This road connects the jewels of the tourist city: the Royal Pavilion, The Lanes, North Laine, St Nicholas, Old Steine…even Churchill Square and Western Road shops. What a disappointment for visitors…and residents!