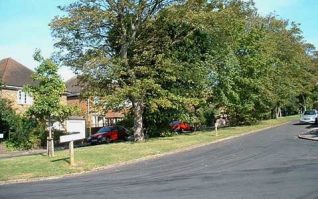 The history of windmills, located in the area of Old Mill Close, spanned a period of almost three hundred years.
A windmill, probably a post-mill, held by Richard Geeringe in 1620, was known to have existed in Patcham. A hundred years later, a windmill is displayed to the south of All Saints Church on Budgen's Map of Sussex, published in 1724. Evidence from documents of the 1780's lists, for the purpose of insurance, the existence of a post-mill, dwelling house, granary and stables.
About this time a smock-mill was built adjacent, and possibly to replace, the old post-mill. The new mill was taken over by Richard Ballard in 1818; thus began the long family association with what was to become known as "Ballard's Mill". The mill was removed just before 1900.
The much restored Mill House, with some flint outbuildings, and Mill Cottages remain close to the junction of Overhill Way and Highview Avenue South. Nearby Old Mill Close is named from the mill.