Dr Richard Russell's house was in the Old Steine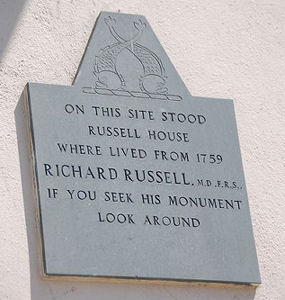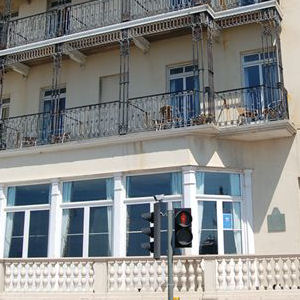 Dr Richard Russell, MD FRS, was born in 1687.  In 1750 he published a paper entitled 'Glandular Diseases, or a Dissertation on the Use of Sea Water in the Affections of the Glands'.  This paper prescribed the sea water cure and Russell advised his patients to swim in and also to drink, sea water.
Russell lived in Lewes but he recommended that his patients try the nearest place to bathe and take the sea water cure.  That place was of course Brighton, and so the town saw a massive influx of visitors.  Wealthy Londoners thronged to Brighton and the modern seaside resort was born.  Dr Russell and his sea water cure became so famous that he decided to move from Lewes to Brighton.  He built a very large house on the site of what is now the Royal Albion Hotel.
Richard Russell died in 1759.  The plaque on the wall of the Royal Albion Hotel says simply: "If you seek his monument, look around".