'That's me old china cat! '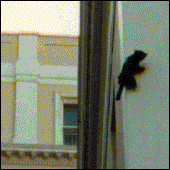 During the construction of the original My Brighton exhibit, Brighton's free newpaper – the Brighton and Hove Leader – ran a series of articles appealing for information about Brighton mysteries. Here's the Leader article about the Old Steine cat:
George Taylor comes clean!
George Taylor has finally let the cat out of the bag and revealed the truth about the familiar feline high on the wall of a building at Brighton's Old Steine. It wasn't put there as an architect's trademark, as we were initially led to believe in our recent My Brighton feature. And although many readers were convinced it was a jaguar, because the building used to house the Jaguar car showrooms, they were mistaken. How can we be sure? Because George was the man responsible for setting the hollow china cat into the wall – all of 68 years ago.
That's my cat
"That's my cat all right," said 84-year-old George of Dale Crescent, Brighton. "I was 16 when I worked as an apprentice plumber with the building and jobbing firm Albert Clinch. My immediate boss was Alfie Martin and the pair of us were told by Mr Newman, the showroom proprietor to scare off the birds. We had to drill a hole through the corner of the building and insert an iron grid to support the cat, which was then cemented in." Mr Taylor remembers the incident like it was yesterday, because he was left high up on the ladder for some 20 minutes holding the cat in position until the cement set. Originally there were also two birds on the window sill, but they attracted so many seagulls and pigeons that the building was soon defaced by all the droppings so they were taken down.