Childhood memories of the 1940s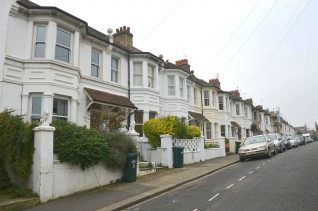 Collecting for the war effort
I was born and lived my early life on Prinsep Road. When I was a small child, I remember well the day the iron railings outside our house were removed although I am unsure of the exact date. It was a shame because they were lovely, decorated with chrysanthemum-like flowers. The reason they were removed, we were told, was to support the war effort. They were not the only things collected for the war effort; families were encouraged to throw in any unwanted metal household objects, such as pots and pans, as we believed the material was needed to be re-cycled into aircraft, and other weaponry.
A wooden rollered beast
We had a bathroom and separate toilet upstairs, and the dreaded geyser over the tub. I would not stay in the room when it was being lit, as it was inclined to put out a minor explosion, and a long flame when lit, or even a shower of soot. It cost my mother her eyebrows on one occasion - more reason to keep a distance. We had a big Kitchener range in the kitchen and a gas stove in the scullery, and the inevitable copper in the corner for the laundry. The mangle was a huge wooden rollered beast set outside, where it did a fantastic job of popping the buttons off shirts, and nipping the fingers of unwary users.
Newspaper for the toilet
Monday of course was laundry day, and the whites had to be white, or "What would the neighbours think!" Most disgusting was laundering cloth handkerchiefs, pre soaked in salt water, to set the contents, gross to recall. We also had an outside toilet, where we used to store deck-chairs and the lawn mower in winter. Lack of toilet paper during the war meant the children had the task of cutting up squares of newspaper and stringing them to hang on a hook, as a replacement. Ouch. We must have had good drains to cope with it, and not block. We didn't have any call bell, but did have a weird door bell, like a coiled spring that hung in the kitchen, with a little bell on it. Not sure how it worked, but a great temptation to jump up and ring the bell to make the dog bark madly.
My Shirley Temple ringlets
I do remember an important use of the kitchen range, namely heating curling irons. I am of an age where little girls had Shirley Temple ringlets, put in rags over night, or curled with these instruments of torture. Heated on the range, they were hot, and I think we all had the experience of burnt ears from careless use. No sign of gas lamps, but I know there were houses not too far away that had them. Power outlets were few and far between, maybe one in each room, and one in a corner called 'Power', that was used for the radio. Here we gathered to listen to Golden Oldies such as Palm Court Hotel, which featured light classical music deemed suitable for Sunday listening. Tommy Handley and Arthur Askey were favourites too.