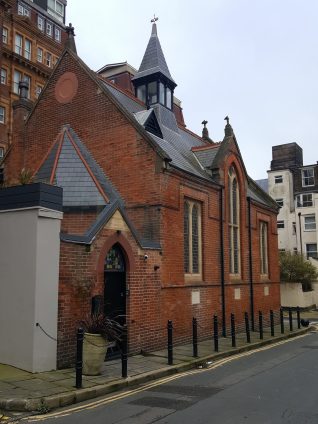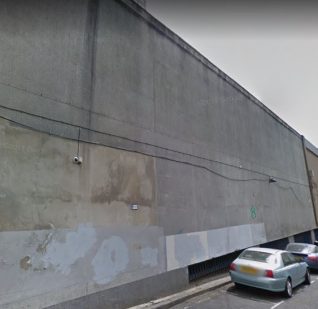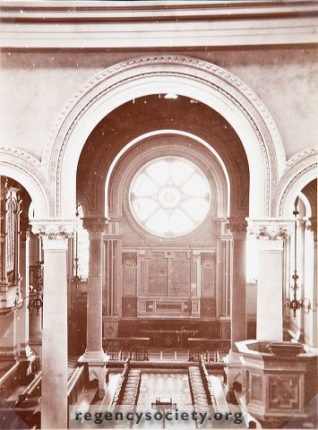 With permission James Gray collection.
I try to do my lockdown city walks in unusual places that I normally rarely find time to visit.  I have visited the French Protestant Church in Queensbury Mews before, however it's in a "hidden" area tucked behind the Hotel Metropole, and not much frequented.
Westfield Gardens Estate
This area was originally covered by the Westfield Gardens Estate.  Surprisingly the small green square, surrounded by buildings, but hidden from Kings Road, was originally used to train troops.  Westfield Lodge had frontage onto King Road, however it was demolished around 1890, along with Westfield Cottage and other buildings to make way for the Hotel Metropole.  The old military training ground was transformed and became the Metropole Italian Gardens
Ghastly Concrete Wall
I walked a little further up Queensbury Mews and noticed the ghastly concrete wall.  The photo of the French Protestant Church and the image of the concrete wall are from matching angles and just a few paces apart, however the contrast could not be greater, what were those 1960's planners thinking?
St. Margaret's Church
I believe the concrete wall forms part of the Metropole Conference Hall or Sussex Heights underground car park.  Previously St. Margaret's Church stood in this area, backing onto Queensbury Mews, and adjacent to Westfield Gardens.  It was one of the finest churches in Brighton, and if anyone has any doubt about this please examine photos 66 to 92 from Volume 29 of the James Gray collection.