History of the square from 1818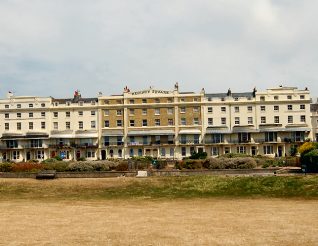 Please note that this text is an extract from a reference work written in 1990.  As a result, some of the content may not reflect recent research, changes and events.
b) HISTORY and DESCRIPTION of the SQUARE: From 1818 until 1828 the new residents of Regency Square purchased individual plots from the speculative developer, Joshua Hanson, and bound themselves by covenant to complete the facades to an approved design with balconies and stuccoed ground floors. The covenants, which lasted for seventy-one years from December 1818, also required the owners to repaint the facades every three years and to contribute equally to the maintenance of the enclosure. However, faced with the prospect of the covenants expiring, the corporation assumed control of the square under the terms of the 1884 Brighton Improvement Act and extended the covenants indefinitely.
The architectural merit of the square is reflected in the grade II* listing of the entire eastern and western sides, together with nos.26-37 facing the garden along the northern side; most of the other houses, nos.21-25 and 38-46, are listed grade II. Many were probably designed by Amon Wilds and his son, Amon Henry Wilds, with the later houses by the Amon Wilds/Charles Busby partnership; most have bows and balconies, and many are faced with mathematical tiles. The houses of the eastern side are mostly adorned with Ionic doorways. The northern side is a symmetric composition of bow-fronted houses with balconies and verandahs, flanking the yellow-brick centre-piece which prominently displays the name of the square. The archway between nos.42 and 43 leads to Regency Mews. Hotels now dominate Regency Square, but Dr William King, the social reformer and co-operative pioneer, lived at no.2 from 1828 until 1830. No.57 was the home of Somers Clarke, clerk to the vestry for many years until 1892.
The gardens cover 1.56 acres and now form the roof of an underground car-park for 520 cars which opened at Easter 1969 at a cost of £523,000; it was originally planned to be a surface car-park. Regency Square has now given its name to the surrounding outstanding conservation area.

Any numerical cross-references in the text above refer to resources in the Sources and Bibliography section of the Encyclopaedia of Brighton by Tim Carder.