St Alban's House and the War Memorial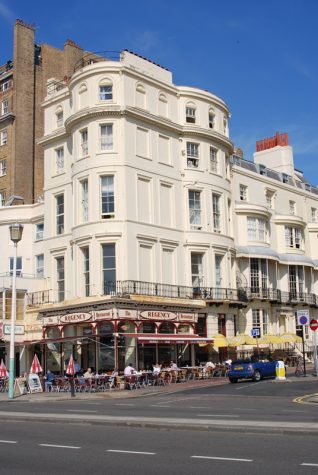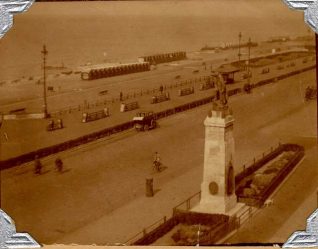 Please note that this text is an extract from a reference work written in 1990.  As a result, some of the content may not reflect recent research, changes and events.
c) ST.ALBANS HOUSE: No.1 Regency Square, together with 131 King's Road, is a grade II*-listed building designed after the rest of the square in 1828-30 by A.H.Wilds; it is decorated with his familiar shell motifs. Originally known as Regency House, it was taken by the Duke and Duchess of St Albans in July 1830 and became one of the centres of Brighton society. The Duchess, formerly the actress Harriot Mellon, married first one of the richest men in England, the banker Thomas Coutts who was forty-two years her senior, but following his death she married the ninth Duke of St Albans, twenty-four years her junior. The Duchess died in 1837.
d) ROYAL SUSSEX REGIMENT WAR MEMORIAL: Standing at the southern end of the square, this Portland stone cenotaph was erected to the 152 men of the regiment who perished in the South African or Boer War of 1900-2. It was unveiled on 29 October 1904 by the Marquess of Abergavenny, and is surmounted by a bronze bugler and four artillery shells. Now a listed structure, it also commemorates the men lost at Louisberg and Quebec in 1759, in Egypt in the 1880s, and in the two World Wars.
Any numerical cross-references in the text above refer to resources in the Sources and Bibliography section of the Encyclopaedia of Brighton by Tim Carder.