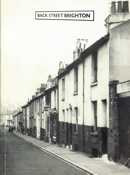 My father, Harry Croydon, opened a newsagents shop in Richmond Buildings in 1912, and he stayed there until Richmond Buildings and the area round it were con­demned in 1958.
Some of the people in the street during that period were: Harry Sinden, undertaker; a greengrocer; fish and chip shop; cat and dog's meat shop; wholesale clothing; barber; secondhand shop; haberdasher; grocer; another secondhand shop; another fish and chip shop; boot repairer; gas fitter; watercress seller; herbalist; Mrs Wragg, secondhand clothes; sweet shop; Gates, timber merchants; Lennox Arms Pub; greengrocer; another greengrocer; another boot repairer; retail clothing; tailor; butcher; tin smith; another boot repairer; hairdresser; another boot repairer; another sweet shop; Dr John Vance's surgery; John Marshall, chimney sweep; St Peter's Church Hall; watch repairer; secondhand clothing. The Boys Brigade met at St Peter's Hall; when they paraded in the street they would march blowing their bugles.
I was born in 1911, and my father moved to number 53 Richmond Buildings in 1912. We lived above the newsagent's. We had the shop and an office behind, two bedrooms above, a big living room below the shop, and a kitchen and outside toilet. In the office at the back we did all our booking and took bets, before betting was legal, it was all under the counter, we even took bets off a policeman, and he said un­less they had complaints they didn't do anything. We always kept our punters hap­py because in those days it was only sixpences.