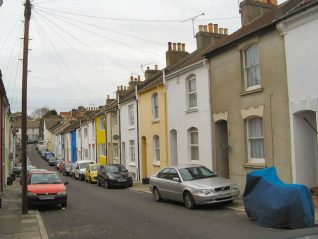 Photo by Josie Campbell: used under Creative Commons licence
Two up – two down
My childhood home was in Rochester Street; the house was a two up two down with a bath in the scullery and an outside loo. We had no hot water, only what mum boiled in the kettle. Baths, which were far and few between, were on a Saturday evening. Mum would fill the gas copper using a bucket, get the water hot then use a bucket to fill the bath. The first one in the bath water was the cleanest of us; unfortunately it was never me.
Dad drove the last trolley bus
Prior to the war my dad had worked as an upholsterer at Hills of Hove. After being demobbed in 1945, he became a bus conductor, and after a few years he was upgraded to a bus driver. He actually drove the last trolley bus to run in Brighton in 1961. At last, in about 1968 he was promoted to a bus inspector, after working since 1945 for Brighton Corporation buses.
Unhappy schooldays
Mum used to shop at Chapman's greengrocers shop in Bute Street, Capper's grocery shop, also in Bute Street and the local butchers at the top of Hendon Street. I went to St Luke's primary and junior school. Unfortunately passed my 11 plus, and I had to go to Varndean Grammar School For Girls. I was not happy there at all; I left without any qualifications and started work at W H Smith and Son in Frederick Place.