Lower and Upper Rock Gardens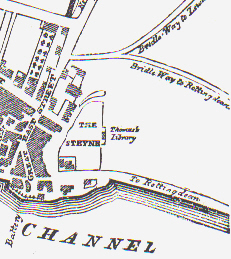 Reproduced from Brighton in the Olden Times by J G Bishop, published in 1892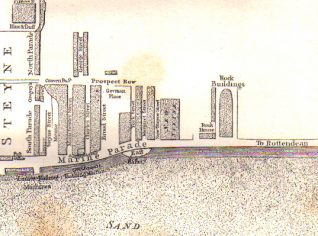 Reproduced from Brighton in the Olden Times by J G Bishop, published in 1892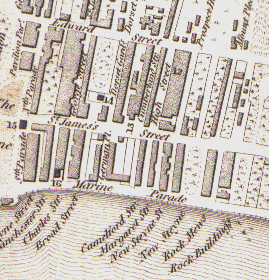 Reproduced from Epitome of Brighton by R Sickelmore, published in 1815
East Cliff (Kings Cliff)
In 1779 there were hardly any buildings east of the Steyne.  However as can be seen from the 1799 map, 20 years later building development had spread eastwards.  By 1818 it was reported, "The moderate ascent of the eastern cliffs in this direction has been an additional recommendation to this spot for building, and, in the last 2 years, every vacant plot of land has been purchased, and nearly the whole covered with elegant mansions".
Lower Rock Gardens
Rock House was built in 1788 by Mr John Smith, this and Rock Buildings were on the further extremity of the town, now Lower Rock Gardens.  He was considered mad for building so far out of town!  Rock House was so named as right opposite huge rocks were exposed, sticking up from the sand, at low tide.  Efficient groyning caused a build-up of shingle, which eventually covered the rocks.  Both Rock House and Rock Buildings commanded extensive views both inland and out to sea.  The "gardens" part of the name was derived from the fact the there was an enclosed pleasure ground with walks and flowers; the north wall of the grounds separating it from what is now St. James's Street.  The pleasure grounds compared favourably with the lawns at New Steyne close by, and increased the beauty of the area!
Upper Rock Gardens
Northwards from the enclosure, now Upper Rock Gardens, was the paddock used by the Earl of Egremont for his racing stud.   His residence East Lodge* was on the east side of the paddock.  The paddock extended from the current position of Edward Street down to St James's Street.
Corporation Improvements
By 1879 the Corporation wished to make a new drive from the Marine Parade to the Downs.  The old pleasure ground was removed making a carriage-road with pavement each side, which is now Lower Rock Gardens.  Northwards other alterations were made at the same time.  By the removal of East Lodge a new road was laid out, now Upper Rock Gardens.  The Earls old paddock was also removed, and new houses and St Mary's Church were built.
* Other records name East Lodge as Neville House