Growing up in the early 1950s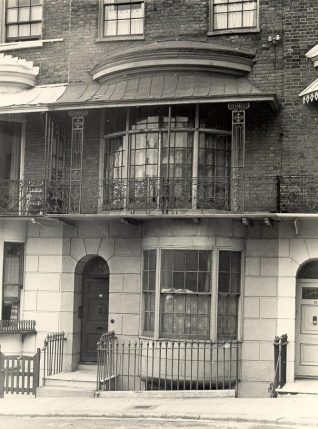 As a boy growing up in Russell Square in the early 50's my life revolved around a small section of streets in the area. Churchill Square was still many years away and life was very simple, most cars came in one colour, black and supermarkets were unheard of, let alone colour televisions.
Western Road
Behind Russell Square was Western Rd with many well known shops such as Lipton's, Mc Fisheries, Wades, Plummer Roddis to mention a few. One of my earliest memories was being taken to Lipton's with my grandmother and watch the ladies pat half a pound of butter into the shape we are all familiar with today. Rationing was coming to an end, although many goods were still unavailable, produce was very simple compared with today's multicultural choice.
West Street
To the east lay the wondrous West Street with its bars, cinemas and of course the continuous throng of day-trippers heading for the beach in summer. At the bottom of West St there was Ritz roller rink, which was rather shabby and the type of place we were warned not to go to! Needless to say my friends and I took no notice of this advice. Most Saturdays were spent at the rink belting round the rink as fast as we could possible go on our hired skates! Virtually opposite was the rather grand Sports Stadium ice rink, where lines of little girls waited patiently to get in to their skating lesson, far too tame for us!
Early schooling
My early schooling came from St Paul's school, which was just behind the main church. The church being the hub of the community and was presided over with great vigour by the Reverend Chown and the Reverend Favell. Just across the Road was Tamplins Brewery (bottling plant) and further up the street the local meat market. Opposite the market was Lacroix's greengrocer where I worked as a delivery boy after school and Saturday mornings. My wages came to the grand total of fifty shillings including tips, which wasn't bad when you were nine years old! Many of the lads from the meat market would come into Molly Lacroix's for hot tea and her famous cheese and tomato rolls. Nearby was Bardsley's fish 'n' chips shop where in those days you would be hard pushed to carry six pence worth of chips, let alone eat them!
The long hot summers in the mid fifties were spent mainly of the beach at the bottom of Cannon Place where we would turn into little brown chestnuts in our ten week school holidays. Most days we would don flippers and masks and dive under the West Pier at low tide, many the day we would come back home laden with silver spoons the had been discarded from the café on the pier. Unfortunately these turned out to be silver-plated, nevertheless it was still treasure to eight and nine year olds.
To top up our pocket money we would scour the beach after the day trippers had gone and collect any bottles we could get the 2p deposit back from the off-licence. The highlight of any day spent on the beach was to visit the small sweet factory in St Margaret's Place. The owner would let us take as much as we wanted of Brighton rock that was broken! Always the perfect end to the day, guzzling Tizer and getting home looking a funny shade of green after eating too much rock!
Senior school
Eventually the day came that I had to go to senior school and duly trotted off to my first day at Fawcett secondary school in Pelham Place, Brighton. It was quite a shock after being at St Paul's and Middle Street, which were both mixed schools. Fortunately I was soon to make friends and suddenly being in a school of over five hundred boys didn't seem too bad.
By eleven years old my local friends and I had taken up ice-skating and were all very good skaters. So instead of the Ritz roller rink we were now lining up with the girls outside the ice rink and roller-skating was a distant memory. Our big heroes now were the "Brighton Tigers" ice hockey team and every free moment was spent thinking how we could play ice hockey and become better skaters. One of the big pluses of ice-skating was that there were girls at the rink, another new found attraction!
Brighton Tigers
Fortunately we all managed to join the "Brighton Tiger Cubs" which was set up to encourage youngsters to learn the game. Practice was Sunday morning at 6am and involved us having to clean the ice after our practice matches and making sure we left the rink by 10am, when it was open for general skating. Learning to clean the ice was a bonus, as it allowed us to get into the Sunday night ice hockey game to watch our heroes the "Tigers".
The ice had to be cleaned twice in a game and this necessitated a large jeep that would scrape the top of the ice off, followed by a team of guys who would scrape up the surplus ice into a large shoot. After this my friends and I who were called the "sweepers", would form a precision line and sweep the whole surface leaving a perfectly smooth surface for the next period of play. We were unpaid for our ice cleaning task but that was unimportant, as it allowed us to get in for free and watch the "Tigers" play.
Occasionally we did exhibition games after the "Tigers" match and played a shortened game for anyone that cared to stayed and watch us. Unfortunately most of the people had paid to see the professionals, but nevertheless we gave our hearts to the match, but were frequently disheartened as the crowd dwindled to a handful. The most important thing for us at the time, was that we were having the time of our lives and there was always some way to earn money at the rink doing odd jobs.
Demolition of the Sports Stadium
By the mid-sixties the whole area around Russell St and the bottom of West St was pretty run down and due for redevelopment, the Sports Stadium was finally demolished in 1965. The residents of Brighton were promised a new ice rink, unfortunately this was not to be and now in the year 2003 the City is still without this facility. Churchill Square came along in the mid-sixties and has since been redeveloped again. Most of my memories from childhood are contained in that small area I have mentioned, although some of the buildings remain and the house we lived in Russell Sq is there, the rest are ghosts of a bygone age.
My interest in the Sports Stadium came to light again in 1995 when a friend of mine asked about my days playing ice hockey at the SS Brighton. His sons were doing a project at Brighton College and he was interested to know if I had any photographs of those days that his boys could include in their project. I eventually found a couple he could copy and this set my mind working to find out if anyone had more photographs.
Start of a collection
A letter to the Evening Argus appealing to readers for information regarding the SS Brighton and was rewarded with a letter from a lady reader. Her husband had originally been involved with the rink as a speed skater and had started to put together the history of the rink. Unfortunately he had passed away before he could get far into the project, but she kindly gave me all that he had collected to date and this led me to my current collection.
The letter to the Argus started a domino effect as one person after another lead me to someone related to the rink. Eight years later this unique collection has grown to over four thousand photographs on all aspects of the rink and it's many patrons and stars that appeared there. Along the way I have also been very lucky to meet many of the stars that appeared at the rink and have amassed many items of memorabilia from them in their heydays. Many of the stars I've met through my project were the same stars I sat in front of all those years ago as a young boy, when they performed in the many ice spectaculars at the rink.
I hope this profile of my young days in a town that has changed beyond all recognition will bring back some memories to people who remember the SS Brighton. One lasting memory for people will be the famous "Tigers" as one of the greatest ice hockey teams in the country and Europe. Most people over the age of fifty would have had some connection with the SS Brighton, being the social hub of social Brighton in its heyday.
I trust my collection will be a fitting epitaph to a sporting and entertainment venue that the City of Brighton is unlikely to see again. In due course my collection that will be eventually donated to the City for future generations to study and appreciate a bygone era and its social implications.
See Trevor Chepstow's photos and history notes about the S.S.Brighton