Childhood memories of number 45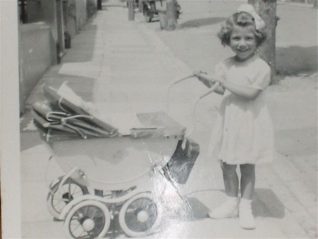 From the private collection of Sandra Bohtlingk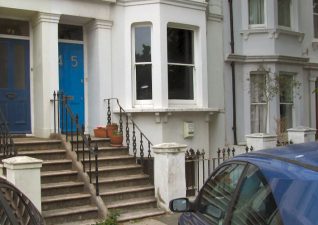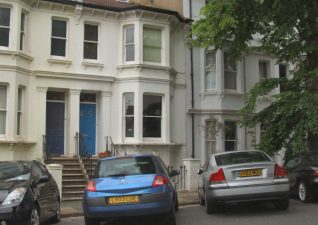 My third birthday
This is a photo of myself, Sandra Baldwin, taken at my 3rd birthday standing outside my grandparents' house where we lived at number 45, Shaftesbury Road. I was hoping we could see more of the street itself and the missing fancy tops to the railings but the photo doesn't include this detail. Nor does it show a great deal of the street itself. Being my birthday I was the main focus, naturally.
Memory playing tricks
Missing railing tops are a real mystery to me. I was absolutely certain we had beautifully shaped tops and could draw them today if asked to. However I do know the story that they were all taken away for war use so I can't imagine our house was over-looked. Memory up to it's tricks again probably.
Night time sounds
I always remember the wide roads and the lovely old trees. No problem in parking outside your own place in those days. Very many pigeons of course and sometimes, in later years when I would return for sleep-overs, I can remember the sounds of the railway not far off. There was a a small station (London Road British Rail) at the top end of the road, and to cap it all the odd owl hooting somewhere in the distance.
Old fashioned house
The house was still quite old fashioned as I grew up and didn't seem to be in my grandparents' interest to modernise things. They were older then and retired and my grandmother spent a lot of her time knitting for one or the other of us. There was a small shop very close by where they sold knitting wool and ready made garments. Some of the patterns being quite fancy with lacy effects but no pattern needed. It seemed she could remember how it all went however complicated.
Upstairs with a candle
There was electricty of course, but they were not of modern thinking. Lights didn't go on till it was almost impossible to see one another across the room, and they still put everything out and went upstairs to bed with a candle. And we are talking into the '60's here. I am not even sure if there was hot water in the house but there was a bath in the kitchen so I guess hot water came with it from an old boiler probably.
The basement tenant
The basement was rented by a lady with the same name as my grandmother, Jessie, which I always thought such a lovely name but unusual to have two ladies in the same house. I think it was nice company for my grandmother to have a lady in the house to chat with over tea times. And it was through the basement flat, via an inner stairway, that we went to get to the little garden below.
Watching the neighbours
A lot of meal time was spent wathching the comings and goings of the neighbours and adding a story or two to match the picture of what we thought they might be up to. At the end of the '60's my grandparents moved in with my parents and the house was sold to a lady. I often wish I could have had a little peek at the the house after the lady moved in. I am certain it would have transformed to modern times beautifully. It was a very nice house.