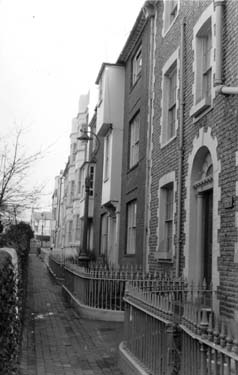 Photo from the private collection of Martin Nimmo
Just off St James's Street, about fifty yards up on the left, is a concealed passageway through to a delightful and peaceful pedestrian lane, St James's Place.
Its mixture of cobble-fronted, stuccoed and brick houses, most with original iron railings, along a brick-laid path with a low flint wall on the left is very pleasing to the eye. It's a really restful place a million miles away from the bustle of St James's Street.
There isn't anywhere to sit or hide, so you're a bit obvious, but it's really interesting to find it. But don't tell everyone about it, or it'll lose its mystique!