Numbers 11-13: a pictorial history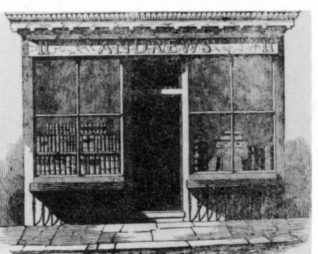 From the private collection of Andy Grant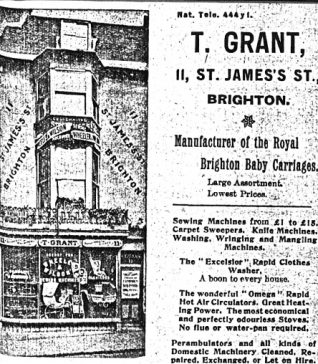 From the private collection of Roy Grant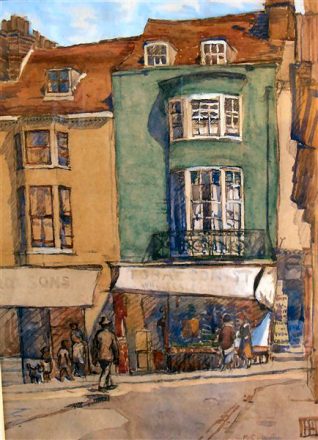 Original painting by Grace Marion Collcutt. Reproduced with kind permission of Roy Pateman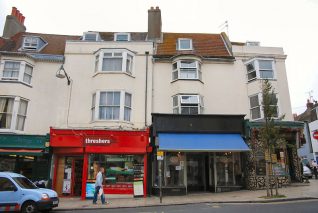 The buildings shown in the pictures are of numbers 11 to 13, St. James's Street and they were built during the first quarter of the 19th century.
1840s
The earliest picture shows the shop-front of number 11, St. James's Street, the premises of Charles Andrews. Andrews was a Bookseller, Stationer, Library Proprietor, Printer and Publisher of engravings depicting scenes of Brighton. He occupied the shop during the 1830's and 40's.
1888-1919
My great grandfather, Thomas Grant of Wiltshire, who had no family connection with the Grants who lived there earlier, took over the shop in 1888.  He was formerly a coachman, but became very inventive, acquiring the skills and capital to repair household machinery.  It is also on record that he patented several of the inventions he and his son Ernest made whilst living there.  In addition to using the address as an agency that provided domestic staff to the more wealthy households in the town, he also hired out bath chairs to gout ridden gentlemen who had come to Brighton for a few days to take in the sea air.
Contributed by Roy Grant
1920s
The second scene is a watercolour painting by Grace Marion Collcutt and shows numbers 11 and 12, St. James's Street viewed from Charles Street. At this time number 11 was Bernard & Son, a Butcher's shop and number 12 was Wallace H. Knapp, a Tobacconist's shop.
2007
The final picture shows numbers 11 to 14, St. James's Street as they look today. Whilst number 11 (on the extreme left) remains largely unchanged, the frontage of number 12 appears to have been completely rebuilt with a different style of bay window.
Grace Marion COLLCUTT (1875-1954)
Grace was born in Hammersmith, London in 1875, the daughter of Architect Thomas Edward Collcutt.  She studied at the Richmond School of Art and Slade School. From around 1910 Grace lived with her brother, Arthur Maurice Collcutt, also an Architect, at 23, Old Steine, Brighton. After Arthur died in 1933 she lived at 11, Denmark Terrace. Many of her paintings in both oil and watercolour were of Brighton scenes, where she spent most of her working life. She exhibited in the Royal Academy and the Society of Women Artists. She died in 1954. There are a large number of her paintings of Brighton scenes at the Royal Pavilion, Art Gallery & Museum.