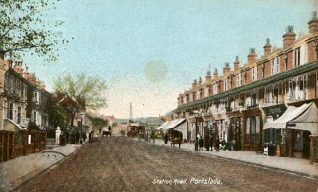 From the private collection of Bob Carden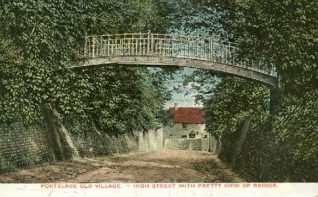 From a private collection
Portslade is the district furthest west in the city conurbation. It lies along the West Sussex border at Southwick, and consists of a number of separate communities, including Mile Oak.
The village Manor House
Portslade village lies in a Downland valley. The village street runs east-west across the hollow, and the flint housing runs downhill from the church and manor. The present manor house has some twelfth-century ruins in the gap between it and the church. There are also the ruins of a nineteenth-century folly, believed to be built from the rubble of the original.
A classic landscape
Like many areas of the Downland, Portslade village was dominated by major landowners. It was classic 'sheep-corn husbandry' landscape, with market gardens in the valley benefiting from proximity to the rapidly growing town of Brighton.
Portslade is relatively off the beaten track. Many people first seeing it are surprised at the wealth of trees and park space, and the range of flint and timbered buildings. Indeed in the early twentieth century, this leafy suburb drew incomers to build some fine villas in the area. The collapse of land values slightly later in the twentieth century meant that the immediate surroundings of the village were swamped with some decidedly unsympathetic buildings.
Growth and industry c.1850-1960
The southern part of the area, Portslade-on-Sea, was known as Copperas Gap until the mid-nineteenth century. It was a tidal creekside community of coal and timber wharves, with some brickfields further inland, mixed in with cornfields and orchards. The construction of the Southwick lock gates led to an increase in the canal-side industry. There was a gas works by 1870, an electicity works by 1906, a steam flour mill soon after, and petrol storage tanks in the 1930s. All this industry created a low-value working class district. Much of this district was cleared in the 1960s.
Decline and regeneration
In the period either side of the First World War, several streets of middle class housing were built on the worked-out brickfields. A busy district, this has some of the cheapest housing in the city. As activity in the port has declined, a range of schemes have been put forward to regenerate the area, but there has been little progress so far.