Well-rutted and cratered in the 1950s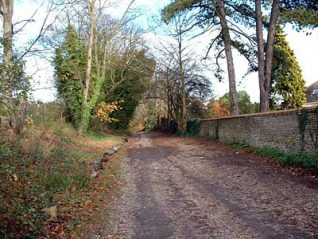 I always remember this road, which ran from Preston Park Station to the bridge over the railway beside Withdean Road, as being well-rutted and cratered, bordered by trees and bushes for most of its length – which was about three-quarters of a mile. We moved to Cedars Gardens in 1954, and there were steps up to Station Road at the top of our road (there were similar connecting passages at the ends of cul-de-sacs like Withdean Court Avenue and Elms Lea Avenue). Dad used to walk along "the lane" as we called it, each morning and evening to commute to his job in London.
Building dens in the undergrowth
The big houses along London Road (like Tivoli and Leahurst) all had back walls and gates on Station Road, and as boys we daringly used to trespass! We built dens or "hide-outs" in the undergrowth near the top of Cedars Gardens. On one side there was wire netting affording a view over the main London-Brighton railway line, and through the bushes on the other we could observe (we imagined secretly) people passing along Station Road on their way to and from the Station. Towards Preston Park Station there was a wooded hillock which was an excellent vantage point for trainspotting.
Coming home in the winter
Coming home by train from school in Hove, I was not supposed to walk along Station Road in the winter evenings, as it was unlit. Of course, I did, scarcely able to see my hand in front of my face. Not something that a ten-year old would do these days!
Chester's taxi firm
Chester's was a family taxi firm, which used to operate from a garage right beside Preston Park Station. In the mid-1950's, all Chester's taxis were Morris Oxfords in a dusky jade green with cream painted bonnets, contrasting with the black taxis with cream bonnets operated by Streamline."