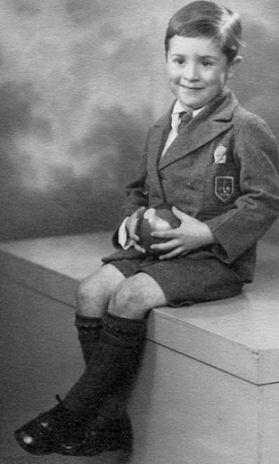 From the private collection of Sid Griffiths
Moved in 1938
My family and I moved from Tivoli Crescent to Sunninghill Avenue in 1938. We often saw the planes having dog fights going on over us at there. Mother wouldn't let me watch; she would push me under the stairs until the all clear went. The siren was on the Grenadier pub at the end of our road. The nearest air raid shelter to us was the West Blatchington windmill, which was then in a field. now a housing estate.
Spitfire missed our house
We were lucky because we could have been shot at walking up there, as it was quite a way from our house. During one of the dog fights two of our Spitfires collided and lost one of its wings it just missed our house and crashed into a house in Fallowfield Crescent killing the pilot. As far as I can remember no one in the house was injured.
Early morning commotion
Early one morning, it was dark, there was a terrible noise of aircraft engines, I thought it was the German invasion. I put my head under the pillow and went back to sleep. In the morning my mother said to my Father that he was sure a plane has landed at the back of us. Mother said there was a terrible noise of aircraft engines about 4.00am. At that Father said why didn't she wake him up, and he put on his clothes and went out to investigate.
Bomber's forced landing
When he arrived back home he said one of our Whitley bombers returning from a raid in Germany, ran short of fuel and landed in what was then a field, and is now houses, at the rear of our house. The tail ended up in someone's back garden frightening the occupants to death as they thought, like me, it was a German invasion, No one in the aircraft was injured.
Fears of an invasion
Of course in 1940/1 we thought the Germans were going to invade the UK, we now know it did not happen. But Mother was worried about our safety and so decided to take my brother and me to her parents in Monmouthshire. Father stayed in Hove driving the Southdown buses. He eventually met another woman, my mother got a divorce so we never returned to Hove. I stayed in Monmouthshire until I joined the R,A,F and since then I have lived all over the country. I came to Stroud in Gloucestershire in 1961 to work at the Ritz Cinema and it burnt down three months later, however I am still living in Stroud.