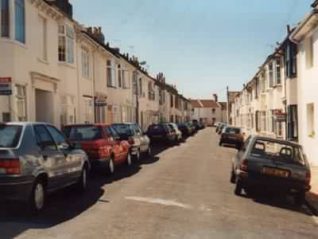 Speculation in the farmland that is now Hanover Ward began in the 1850s, although it was the mid 1860s before any building began. Toronto Terrace was a strip in the 5th furlong in Hilly Laine, which was subdivided. All deeds referred to it as number 45 in the Terrier (survey) made by Thomas Budgen in the seventeenth century. By the tithe survey of 1851 it had become plot 198e. The 12 pauls (approximately 6 acres) it contained had formerly belonged to Benjamin Masters, Sarah Boyes and Israel Paines, but eventually passed to the eccentric MP Thomas Reid Kemp, the man responsible for the development of Kemptown.
Piecemeal development
In the 1850s, it changed hands four times, until on 13th June 1863, it passed into the hands of Robert French, a gentleman, GD Sawyer, a timber merchant, James Bayley, a builder and Robert Adams, also a builder. It was this sort of loose financial partnership that made for much of the development of Brighton, with capital coming in from gentlemen, and builders eventually purchasing it from them with the profits from their small speculations. There is no record of who decided upon the layout of Toronto Terrace, but the building pattern below shows the piecemeal way the development was undertaken, with long gaps occurring before the fabric of the street was completed:
Date of approval Present number of house Developer
11/10/1864 14 – 17 Robert Adams
18/10/1864 31 (House & laundry) Mr. Hoather
?/12/1864 19 (Carpenter's shop) Unknown
31/10/1866 10 William Parsons
16/01/1867 1 – 3 Mr. Hoather
22/08/1867 31 (addition to laundry) L. Holman
05/05/1869 19 (stable) W. Parsons
21/07/1869 65 – 67 W. Parsons
05/10/1869 62 – 64 W. Parsons
Autumn 1869 32 – 33 W. Cole
05/10/1870 43 W. Parsons
01/03/1870 44 – 61 W. Parsons
02/08/1870 34 – 42 W. Parsons
02/04/1879 68 – 72 & 64 Albion Hill J.R. Lidbetter
27/11/1891 63 (Shed) J. Lintott
William Parsons the builder
The builder responsible for the majority of building in Toronto Terrace, including number 53, was William Parsons. He was in business in 1867 as a carpenter at 69 Southover Street. By 1871, he was living at 60 Southover Street and assisted by his two oldest sons, 19-year-old Alfred and 16-year-old Richard. The speed with which his activities in Toronto Terrace progressed seems to have brought him prosperity, for by 1878 he was a builder living in a larger house in Sutherland Road, and in the 1880s moved to the distinctly middle class Dyke Road where he worked as a builder and contractor.
Designs of the houses
Despite the number of builders employed in the building of Toronto Terrace, the houses have an apparent uniformity, which seems to suggest the direct oversight of the original speculators, and the careful control exercised by the Brighton Corporation over house plans. It would seem that the houses were designed from a pattern in a standardised building book, frequently used by Victorian builders. The main part of each house was 17′ 6″ wide and 21′-23′ deep, with a small back wing. The ground floor contained a 'parlour', living room, a small kitchen and a small entrance hall leading to the stairs. There were two main bedrooms on the first floor and a rather small third one. Each house had a back garden with an outside WC with mains drainage and running water. The front door opened directly on to the street. The houses were built of brick rendered with stucco at the front and had slate roofs; the parlour had a small bay jutting out into the street. The houses, as with all other dwellings were subject to a 'schedule of restrictive covenants', which limited what activities could be carried out in the property. In the case of 53 Toronto Terrace, there were restrictions on the sale of beer, wine and spirits and the owners were not allowed to build stable carriage houses upon the land!
Who lived there?
When originally built Toronto Terrace had a young working class population, particularly married people with very young children. Comparing the inhabitants with those in neighbouring streets, those in Toronto Terrace seem to hold 'superior' stations of employment, with people engaged in the building and furniture trades as well as a number of tradesmen. The strength of Toronto Terrace lay in its number of laundry workers. There were two main laundries on the street, but the majority of laundry workers seem to have been female members of a family taking in washing to help cover the cost of the superior accommodation. This is born out by records showing that number 53 Toronto Terrace was originally a family home, but also described as a laundry.
The population of the area
The majority of Toronto Terrace's population (60%) came from Brighton, with a further 18.8% coming from the rest Sussex. The remainder came from the rest of the country. The population of the street appears to have been very mobile, particularly in the pre-Second World War period. A reason for this could be that the rent for Toronto Terrace, as compared to similar dwellings in Brighton, was more than 60% higher. (8s per week as opposed to 5s.)
Working class families
The evidence of who lived at 53 Toronto Terrace shows similar findings to the rest of the street: the property was inhabited by working class families with young children. It is interesting to note the number of people living in the house; the living conditions must have been severely cramped when you consider that now most houses in Toronto Terrace have one or two people living in them, and very few households have any children.
First recorded inhabitant
The first recorded inhabitant of number 53 Toronto Terrace was in 1875 when a Mr. H.Y. Smith lived there, running a shop from the house. This was a particular surprise to find that the property had been used as a retail outlet. On further checking, I discovered that the house became a shop just a couple of years after it was built, until 1927, when the records indicate that it became entirely a private residence. During this period, the house was a shop downstairs, and the family lived upstairs in the three bedrooms. Following is a list of inhabitants:
Year Name Age Occupation Place of birth Source
1875 Smith, H.Y. General shopkeeper Pages Directory 1875
1881 Clarke, Charles 32 Cabdriver Brighton 1881 census
" Clarke, Harriet (wife) 31 Grocer Brighton "
" Clarke, Charles J. (son) 10 Schoolboy Brighton "
" Clarke, Harriet (daughter) 9 Schoolgirl Brighton "
" Clarke, Florence (daughter) 7 Schoolgirl Brighton "
" Clarke, Elaine 6 Schoolgirl Brighton "
" Clarke, John E. 38 Cabinet maker Stepney, Middlesex "
1887 Newman, Mrs Fanny Shopkeeper Kellys Directory of Sussex 1887
1888 Beminster, Mr Robert Grocer Pages Directory 1888
1890 Morris, Mrs General shopkeeper Pikes Brighton Directory 1890
1891 Neville, Charles 32 Porter Brighton 1891 census
" Neville, Marie (wife) 32 Grocer Brighton "
" Neville, Phillip (son) 4 – Brighton "
" Neville, Amy (daughter) 3 – Brighton "
" Neville, Mirium (daughter) 2 – Brighton "
" Thomas, J. (father-in-law) 67 Tailor Hailsham "
1895 Luck, Mrs E. Shopkeeper Kellys Directory of Sussex 1895
1901 Morris, Vivienne (widow) 47 Grocer/shopkeeper Brighton 1901 census
" Morris, Edith (daughter) 25 Teacher of music Brighton "
1909 Edwards, Arthur Shopkeeper Kellys Directory of Sussex 1909
1915 Realff, Mrs Lilly Shopkeeper Kellys Directory of Sussex 1915
1920 Russell, Frederick J. Furniture dealer Kellys Directory of Sussex 1920
1930 Cooper, Frank (owner) Electoral register 1930
" Cooper, Emily (wife) "
" Cager, Edith "
1936 Wilkins, Peter (owner) Electoral register 1936
" Wilkins, Ivy May (wife) "
" Humphry, William R. "
1940 Casey, Thomas Kellys Brighton Directory
1951 Casey, Thomas Electoral register 1951
" Casey, Kathleen A. "
1969 Martin, Gary J. Electoral register 1969
1970 Curruthers, Brian Electoral register 1970
" Martin, Gary J. "
1973 Batchelor, Michael A. Electoral register 1973
" Batchelor, Cheryl D. "
1975 Worrell, Brian Electoral register 1975
" Worrell, Toni "
1981 Davion, Anne M. Electoral register 1981
1982 Cadman, Alfred C. Electoral register 1982
" Davion, Anne M. "
1983 Byrne, P.J. Electoral register 1983
1987 Broughton, Martin A. Electoral register 1987
" Broughton, Sandra "
1994 Brett, Nicklaus Phillipe Electoral register 1994
" McLeod, Catriona S. "
1997 Carpenter, Michael P. Electoral register 1997
" Maddocks, Martin P. "
This list of residents shows how the composition of the households has changed over the past 130 years. The house started off with large families and towards the present it becomes much smaller units. It appears that number 53 became a furniture dealers' in the 1920s, as it was still registered as a shop, but unlike the previous 50 years, Kellys Directory describes the occupant, Mr Frederick Russell as a furniture dealer. This was the last commercial venture to be undertaken at the house. I found it interesting to note that according to the 1901 census Mrs Vivienne Morris lived at the property, running the shop downstairs, while her daughter Edith Morris taught piano lessons upstairs. It appears that the early occupants of the house were out and out capitalists!
Patterns of occupation
I also found it interesting that the house had changed hands so frequently, I had assumed that houses in the latter part of the 19th century and early 20th would be occupied by one family for many years, changing hands as it was passed from parents to children. Perhaps this was not the case for 53 Toronto Terrace as it operated as a commercial premises, changing hands as shopkeepers moved on, or as families grew in the extremely cramped conditions.
Respectable artisans
Once established and completed Toronto Terrace became firmly fixed as a street for 'respectable artisans', whose comfort and prosperity increased considerably in the late Victorian period and early 20th century. During the Second World War, Hanover suffered from several bombing raids, with houses in Carlton Hill and Albion Hill being destroyed, and 104 people losing their lives. After the War, these bomb-damaged areas were redeveloped, with modern flats and small houses being built. The rest of Hanover however, including Toronto Terrace became rundown with low-income young people with children moving in, the rents being low in comparison with the rest of the town. The decline continued until 1976 when Brighton council declared the area a 'redevelopment zone'. The council gave grants to local residents to improve their housing, to install double-glazing, replace out-of-date kitchens and bathrooms and carry out much needed renovation work on the fabric of the houses. Over the next ten years, this encouraged young couples to move into the area and 'do-up' the houses. Throughout the 1980s the area was transformed from a predominantly rent sector housing area to a place where the majority of houses were owner occupied. In the 1990s, Hanover and Toronto Terrace gained an enviable reputation as a community orientated area, with a community association, community centre and excellent local pubs and churches who get involved in the local area. The area is now a highly desirable place to live, with young professionals moving in, pushing up the house prices to well over treble the national average, and even double the price for accommodation in Brighton. If an early resident of Toronto Terrace could come back and see what their street had become, I am sure they would have been impressed at a street built to house normal working class folk, having been transformed into a street of high property prices and well-to-do residents.
© Martin Maddocks, 2002.