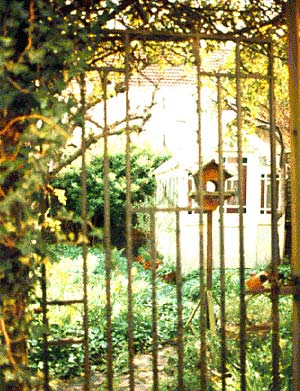 Typical of the North Laine
This garden in Trafalgar Terrace – a real leafy bower – is secluded behind a wooden fence and iron gateway, through which you can glimpse a greenhouse almost hidden by greenery.
Trafalgar Terrace is typical of the North Laine and especially the small scale intimate nature of its streets. With the houses on the west side and the gardens a few feet across the passageway on the east, it is a reminder of the former rural nature of the Laine. It was built towards the end of the 1830s.
You can find other examples of this rustic charm within a short distance, in Camden Passage, North Gardens and Vine Place.