Meet Francis, the resident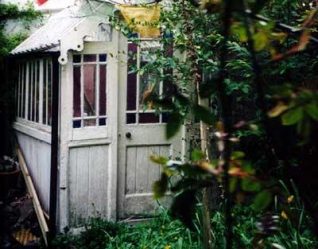 Francis has lived in Trafalgar Terrace for 7 years. He is the street rep for the North Laine Runner, the community newsletter. He runs counselling sessions in the summer house in his garden.
Why I chose this area to live in
I settled on this area partly because it was so central. I could walk to the seafront and central Brighton quite easily. Of course, it has some disadvantages, because you can't get stuff by car to the front door! I have a resident's parking permit but that doesn't guarantee you a place.  I was unaware of this twitten. I first heard of it when I came to look at this house. I decided instantly that this was the house I wanted. I offered the full asking price, which was relatively low. It didn't have central heating; it didn't have a normal lighting system; and there was also no bath. These were all quite ordinary things that one would have expected to have in 1997.
First row of houses built
Apparently this was the first row of houses that was built in the North Laine. Originally, the garden (now separated from the house by a public walkway) would have been a conventional front garden. When Kemp Street was built the access was blocked, so they built the twitten along between the gardens and the houses.  I rather regret having a high fence round my garden. The trouble is that there are people going around looking for somewhere to doss down for the night. You don't particularly want to encourage people, particularly as I have a particularly big summerhouse.
The Flying School
The seagulls sometimes make a terrible racket at two in the morning and that did bother me when I first moved here. You get what I call the Flying School – later in the summer- when the young are ready to learn to fly. There's lots of squawking and the mothers will push the young off the roof. But I love them; I think they're wonderful birds.
A real feeling of community
There's a feeling of community in this area. Not having traffic, we get to know each other much more easily. People sit or stand outside their front doors outside in the evening. If I go out walking around the North Laine, I will almost always meet someone I know. People will look out for each other's houses while they're away.
I'm pleased the North Laine was saved. It was very touch and go, wasn't it? It was a slum area, which would have been demolished and developed if the road had come through. This might have just been a wasteland, so the planners showed great foresight. I don't always agree with conservation because one needs to have new things as well, but I think this particular conservation was good. This is an area of great character."