Happy days in the Lorelei coffee bar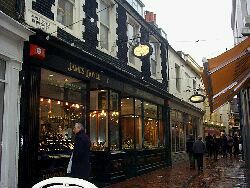 Oh, the Lorelei coffee bar, yes, we used to half live in there, yes, loved it. In the very beginning they used to open on a Saturday night, after the clubs had closed, and that was super because once the club had closed, we all would go round camping through the streets at all hours of the night and early morning, you know, singing loud songs, one thing and another. We used to behave outrageously, really, when I think about it. But yeah, we used to land up in the Lorelei and it would be crammed to the doors, you know, just drinking coffee. I'm sure people these days just wouldn't bother, if it's non-alcoholic, but we did then and we loved it and it was great fun.
And that was a great mix, Lorelei, of boys and girls. It was sad when that went although the two fellas who owned it, they owned it for a long time afterwards, they just stopped doing the Saturday nights. But you'd always see gay people in there and whenever I went to Brighton, I'd always go in there and I'd always see someone gay. But they've been gone a long time now.