Redeveloped in the early 1970s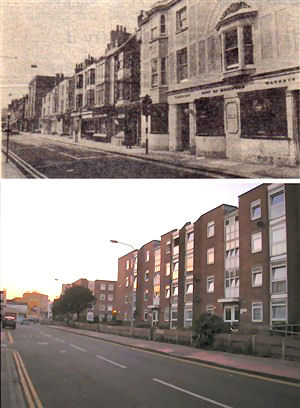 From the private collection of Peter Groves
Upper St. James's Street was probably never as important as its close neighbour St. James's Street, of which it is an extension.  However once shops and businesses extended right along its length into Bristol Road and St. George's Road.
Machine tool manufacturer CVA
Prior to the early 1970's redevelopment, on the north side of Upper St. James's Street, hidden behind the shops and small businesses was the 'tool room' of Hove based Machine Tool manufacturer CVA.  This was squeezed in behind the shop fronts and Warwick Street, which ran parallel at the rear.  Due to the high demand for its 'engineered' products during WWII the company expanded from its Portland Road headquarters and in 1940 the Kemp Town factory was it's first acquisition, many others were to follow.  It closed in 1952, following the post war development of the Hollingbury Industrial Estate.
Early 1970's redevelopment
The photo shows the view just prior to July 1971 when the bulldozers moved in to clear the area for a £371,000 redevelopment by Brighton Corporation.  As well as the old CVA factory, shops, businesses and Warwick Street were bulldozed to make way for new flats, now Hampshire Court.
Upper St.James's Street Mystery
The mystery is, what's the name of the Watneys pub in the foreground?  Probably frequented by many CVA employee as the factory ran right along the back of this stretch of Upper St. James's Street!