Catering for the meatheads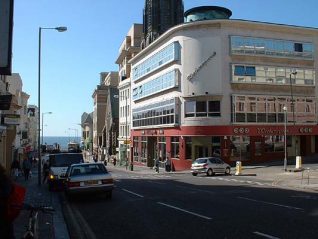 Photogaph by Bill Maskell,
The worst place in Brighton is probably West Street. West Street just caters for the meatheads; rowdy guys in Topman clothes and rowdy girls in Topgirl clothes. The selection of pubs like Yates, the Whetherspoons, the Shark Bar, are just the most horrific places imaginable.
However, this is a good thing in a way, because in Brighton they try and section off all the meatheads onto West Street. It's perfect because they have everything that caters for them: the kebab shops, the fish 'n' chip shops, and it runs down onto all the clubs on the seafront. It's just best avoided on weekends, generally; well, it's best avoided anyway…