Woolworths: nothing over 6 old pennies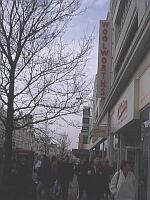 From a private collection
Woolworths in Western Road was the equivalent of the '5 and 10 cent stores' in America. Here there was nothing over 6d (6 old pence).
Sheet music became very popular, with the words and music of popular songs, and at the back of the store there was a long counter displaying them. A piano stood in the corner, and an assistant would play and sing any number you requested, while another took the money for it.
Further along the road, near where C & A is now, there was a store called Staffords; quite a fascinating place where they sold ornaments and fancy goods, the sort not seen at any other shops. In the afternoons they held tea dances. There was a small charge for a cup of tea, sandwich and cake. You could either sit and watch or participate in the fox-trot, waltz and the quick-step. The music was provided by a piano and a violin.