Side streets: Hampton Place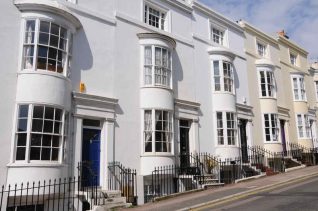 Please note that this text is an extract from a reference work written in 1990.  As a result, some of the content may not reflect recent research, changes and events.
Hampton Place was developed in the 1820s and has an attractive terrace with balconies and Ionic pilasters on the eastern side of which nos.8-28 and 32-34 are listed. The western side is lined with bowed houses, with nos.15, 19-21, 25 and 29-39 listed.
Temple Street was laid out in the next decade, the 1830s, with attractive three-storey terraces. Nos.2, 29, 31, 37 and 42, all with narrow bows, are listed buildings, while no.7 is included on the council's local list.
Any numerical cross-references in the text above refer to resources in the Sources and Bibliography section of the Encyclopaedia of Brighton by Tim Carder