Side Streets: Borough Street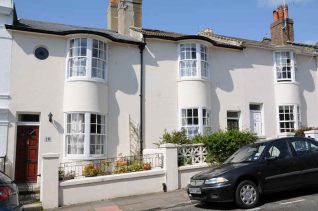 Please note that this text is an extract from a reference work written in 1990.  As a result, some of the content may not reflect recent research, changes and events.
Borough Street commemorates the creation of the Parliamentary Borough of Brighton in 1832, and is lined with attractive terraced housing with those on the western side mostly having bows; nos.3, 8-13, 16, 20-22, 24 and 26 are listed buildings. St Stephen's House was built in 1855 as St Stephen's School and was enlarged in 1895. The listed building is faced in knapped flint and was used as a warehouse from 1931 until 1990.
Any numerical cross-references in the text above refer to resources in the Sources and Bibliography section of the Encyclopaedia of Brighton by Tim Carder