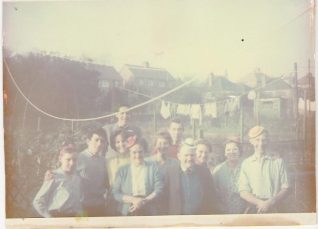 From the private collection of Alan Phillips
This photo was taken on Christmas Day 1960 in the back garden of a house in Wickhirst Rise, Mile Oak.
Front row, left to right: Me, my Nan and Granddad (Kate & Edgar Smith – the householders) and my Nan's sister and her husband (Daisy & Joe Medlock).
2nd row, left to right: Peter Martin and his soon-to-be bride, my Aunty (Jean Smith), Carol Medlock and my Mum (Kitty Phillips).
Back row, left to right: current (2006) Brighton and Hove Mayor Bob Carden (with the washing line apparently slicing off half his head) and his friend, my cousin, Norman Medlock.
Notice how only the one young idiot and the older people were fool enough to wear the silly hats!
Also, it's good to see that the neighbours had their washing on the line even on Christmas Day!