Wondering if anyone who lived in Wiston Road, Whitehawk, would know who any of the people in this street party are. It was taken just two or three houses down from 158 Wiston Road, where we lived. I think it may be 1953 and the Queen's Coronation street party.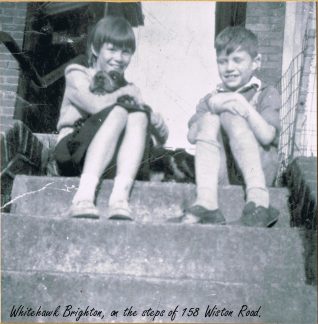 Names to the faces?
Maybe someone could put some names to the faces? If you look on the page here entitled 'Childhood Memories' about Wiston Road, you will see the names of some of our neighbours. In the circled part of the picture is my sister Barbara, and then my older brother Michael, then me (Robert) the youngest on my Mom's lap, all facing the camera.
Strict school regime
We all went to all three Whitehawk schools, and thought those times were fantastic. It was a time when you had a hard and strict teaching.  I don't believe this ever harmed anyone. The only things to suffer were your hand and backside from the cane. Most of us turned out better for it.
Contact me?
I would love to hear from anyone that has any information, or stories, of the times then and later. If anyone would like to email me you can do so at: r.dawson@telus.net Thanks to this wonderful site, my memories keep flooding back, brilliant.