Notes and Queries: previous residents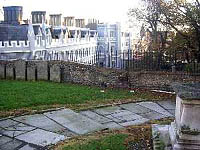 "I am presently a tenant in Wykeham Terrace and have heard many stories about who used to live there including the likes of Leo Sayer. With much interest I've been reading the details on this web site about the history of the building and would love to know more: such as when it was built, and others that have lived there. More details would be much appreciated. Best wishes." (e-mail from Helen Kent, 06/01/2001)
Response 1: Leo Sayer and Wykeham Terrace
"The Melody Maker newspaper had a 'Battle Of The Bands' contest that Patches entered. They had a good act and narrowly missed winning the local heat. The contest was a turning point for Leo, still known as Gerry at the time, for he had now decided what he wanted to do with his life. It was now 1970 and he was 22 years old.
Around this time a Brighton newspaper, The Evening Argus, ran an advert for another talent contest. This audition, which took place at Brighton's Pavilion Theatre, was held by David Courtney, who with his father's encouragement was about to set up a talent agency. This time Patches, comprising of Gerry Sayer (vocals and harmonica), Max Chetwynd (guitars), Mick Morris (drums) and Ian Whitmore (bass), entered and won the audition.
It turned out that David Courtney was more than just a promoter. He'd played drums with early 60's pop star Adam Faith, played piano and was also a budding songwriter. So began what would turn out to be a remarkable creative partnership. At David's Wykeham Terrace flat, the two started writing songs at a prolific and rapid pace."
Response 2: Leo Sayer and Wykeham Terrace
From Cath, My Brighton and Hove volunteer
Here's a reference from the transcript of an interview with Mike Reid. This should leave no-one in any doubt!
'Dave's about to release a C.D. of our earliest demos, from '97', would you believe. It's called "Wykeham Terrace", which was the street just off the Clock Tower in Brighton where Dave had his flat and we wrote "The Show Must Go On" etc; onto his Grundig tape machine. I haven't heard the recordings since my tapes fell apart in the late '70's! '
Wow! A song called Wykeham Terrace! 🙂 Wonder what the lyrics are… (yeah.. tried to find 'em. Couldn't!)
Response 3: Squatting in Wykeham Terrace
From Cath, My Brighton and Hove volunteer
Although this is a personal account I found, I thought that, if verified, it might be interesting as part of the larger picture that emerges from other sources.
"In Brighton too, squatters went to extreme lengths to defend their homes. Squatting in Brighton was launched by the Brighton Rents Project, a broad based campaign for better housing which had already received widespread support, including that of the Labour MP for Kemp Town, Dennis Hobden. Squatting was seen as a last resort in the face of an intransigent Conservative Council. Several empty houses were occupied and families installed. The Council promptly announced that the squatters would be struck off the housing waiting list, and immediately began court proceedings for eviction. And, as if to emphasise its lack of concern for the homeless, it proceeded to sell No 70 Church Street, a house in the town centre which it had kept empty for 20 years. "Despite numerous arrests of supporters on minor charges, the campaign continued to grow. Towards the end of July 1969, houses in Queens Square and Wykeham Terrace were squatted. The army, which owned the properties, had been intending to sell them with vacant possession, but the presence of squatters meant that this had to be postponed. The squatters dug in to fight and called for support In the months up to the eviction (on 28 November) the local press pilloried the Rents Project and its helpers, warning of 'private armies' and 'terrible weapons' waiting at Wykeham Terrace. The dire warnings seemed to be validated when three people from the squat were arrested for firebombing a local army recruitment office. The petrol bombs had been made at the squat and several squatters were later sent to prison. "These events were widely publicised with disastrous consequences. In Brighton for instance, squatting abruptly came to an end and the Brighton Rents Project disintegrated, torn apart by external hostility and internal divisions."