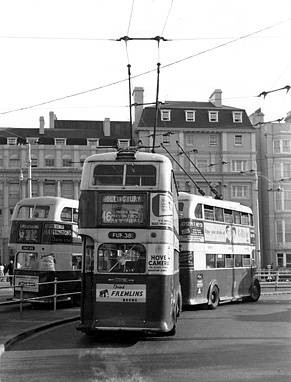 From the private collection of Martin Nimmo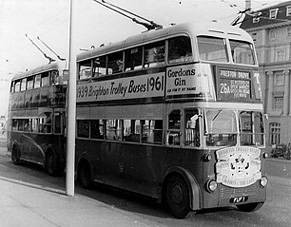 From the private collection of Martin Nimmo
I was there on the evening of 30 June 1961, when FUF 1, the last trolleybus, ran into the depot yard.
Photos taken with my new camera
On my way back from school that afternoon I had taken my "new" camera with me to the Aquarium terminus of trolleybus routes 26/26A/46 and 46A, and took a few photographs. Number 1 in the fleet (FUF 1) turned up with a magnificently painted board on its front, proclaiming "Brighton Trolley Buses 1939-1961 Last Trolley Bus" with a painted crest of the County Borough, and on its offside, instead of an advertisement, there read "Brighton Trolley Buses 1939-1961".
Lucky to get a seat
In the late evening, I went down to Old Steine to watch the last few trolleys making their final journeys, and was lucky enough to be offered a seat on FUF 34 which had been hired privately to run into the depot just in front of FUF 1. I was given a special 1d (white, Bell Punch) ticket overprinted in red with a last trolleybus slogan.It was a sad moment when the silent trolleys disappeared for ever, and Brighton became an all-diesel bus town.
Bought some interesting parts
A few months later, after writing to the General Manager (Mr Winston Robinson, whose name appeared on the side of all the buses), I was allowed to select and pay for a couple of items of trolleybus overhead wiring.  In 1968 I was "treated" to a visit to the stores to pick out some remaining trolleybus spare parts, and was given a few items of interest (including a parts catalogue for the pre-War "FUF" trolleybuses) to help with writing a book on the subject. Many years later I was allowed into the offices of the then General Manager at Lewes Road. The office still had window glass reading "Brighton Corporation Tramways".
The building was put up by direct labour in 1901 for the new Corporation electric trams, which were inaugurated in November that year.