Barbers and Bathrooms 1960s/70s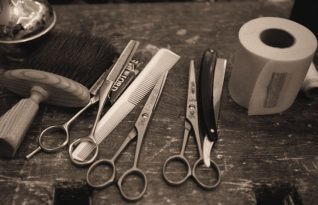 A strange location
At the top of Trafalgar Street, under the archway, was a flight of steps up to the station. Halfway up was, on the right, a gents' toilet, on the left – and directly opposite – a barber's shop. I often used to imagine that it couldn't have been so great working underground as a barber, opposite a public lavatory.
Who used the barber's shop?
This, to me, was a puzzle. If you were going to catch a train, you wouldn't factor in a haircut. If your cut took too long, you would risk missing your train. If you had arrived at the station, I would have thought you might want to get to your final destination, sooner rather than later. Having your hair cut could wait.
Do you remember this shop? Share your memories by posting a comment below
Regular customers?
If you were coming from London, with your family, for a day out in the sun, I wouldn't think you would be too popular if you told them you were going to have a haircut before you all went to the beach. Perhaps the barber's had some regular customers who had nothing to do with the station or with trains. Or maybe the place was frequented mostly by station staff, drivers and so on.  I could think of some nicer places to have your hair cut.