Old steam engines in a Brighton siding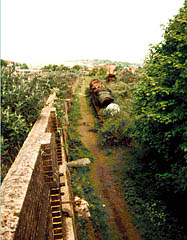 These old steam engines are marooned in a siding outside Brighton station, waiting to be restored to their former glory.
Rescued from a scrapyard in Barry Island, Wales, it is thought they were built in Brighton at the railway locomotive works which were established here in 1852. These workshops were the first centre of heavy industry in Brighton. Many famous engines were built there, by the designers of the "Terrier" tank engines and the "Atlantic" engines.
The works declined from the start of this century, reviving briefly during the second world war when the site was bombed several times. Diesel electric trains were produced from 1953 up until the works closed in 1958.