Memories of trams in the 1930s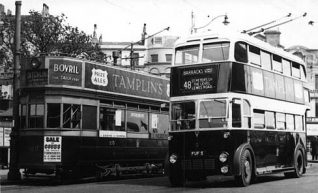 Image from the
picture gallery of John King
, reproduced with permission from the David Bradley Online website.Tram and Trolley bus at the Aquarium
Compared to today's standards traffic was minimal. There were a few motor delivery vans, a few privately owned cars, horse drawn carts for coal and milk, a good many cyclists – and the trams. An abiding childhood memory is of lying cosily in bed before drifting off to sleep listening to the trams in the Grove clanging up to the Bonchurch Road stop and changing gear as they took the rise in the hill towards the Junction, the noise gradually fading into the distance.
A great treat on summer evenings
A tram ride was a great treat especially on summer evenings when we were allowed to sit on the top deck in the open. The seats were like park chairs with moveable backs so that one could face backwards or forwards with the direction of the tram.. The conductor came around with his board of tickets and punch bell requesting "any more fares please".
The tram route was to the bottom of the Grove where the line from the Lewes Road tramway terminus joined it. The ride took us past the Level, St. Peter's Church, Valley Gardens, the Royal Pavilion, the War Memorial and Victoria Fountain to begin the return run at the rustic tram shelter opposite Royal York Buildings.
A story book come to life
To the great credit of the Town Corporation, Brighton has always been a civic showpiece, and to a child this journey was like a story book come to life especially after dusk with white lights twinkling in all the trees, the floodlights and fountains playing. On the return journey the Mazda Fountain at the bottom of North Street was a source of wonder with its continually changing colour and the water reaching great and even greater heights.