In praise of trolleybuses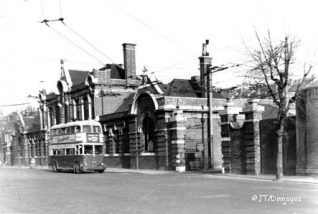 From the private collection of Gordon Dinnage
This picture was used to support an article by Adam Trimmingham in the 'Weekend Argus' of 14th August, 1999.  Adam wrote: 'Times when trolleybus ruled. Fast and frequent buses, almost silent and producing no pollution, sound an ideal solution to Brighton's transport problems.' This was a description of the electrically-propelled buses drawing the current from two overhead wires that ran above Brighton's streets. The current was conducted through two booms down to the roof of the bus and was then transfered down to the chassis motor. These were similar to the previous  'Dick Kerr' tram motors,  only upgraded to 80hp and built at the Allen West factory at Hollingbury.
Swift and silent
These trolleybuses were almost silent (similar to the remaining electric milk floats we see on the road today) with very fast pulling speeds up gradients like Braybon Avenue. Later, fuel-driven buses like the Leyland PD3, nicknamed 'Queen Mary' buses, were far slower with a full load when operating the same gradients for Southdown Motor Services. I would have loved to have remembered travelling on the trolleybuses and have always been fascinated by this method of apparently clean propulsion. In 1975 I wrote a project about this for one of my final years at the old Knoll School for Boys in Old Shoreham Road just before I left, including original photographs. Sadly the school insisted it was kept by them and it has never been seen since. I think my teacher at that time was Mr Harman.
This particular bus was sold on to Staplefield School for use as a playbus in 1960, then scrapped by March of 1968. All the other trolleybuses were sent to J. Lightyard of Lewes where they were scrapped and broken up. Andrew Henbest has recently made great strides in bringing together many previously unseen and notable memories in a new book on Brighton trolleybuses, and we were pleased to have supplied three views to assist in this and in order to provoke pleasant memories for the readers.