Bathing cabins to speedway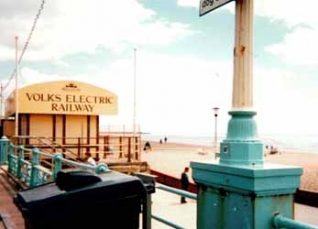 I took this picture not so much because of the railway but because it is the site of the bathing cabins that were named after my mother's family – the Daltons.
In the thirties, half of the machines were taken away because people were undressing on the beach. When the war broke out these cabins were taken away and used as sentry boxes around the town. The place immediately in front of Volks Railway was given over to an electric speedway track which, of course, was terrifically popular.