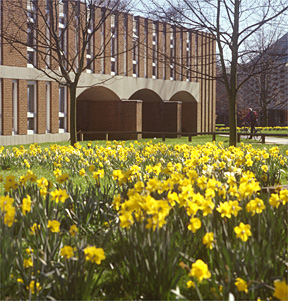 The place I've chosen is the University of Sussex campus because it's where I work and it's a lovely place. The campus has been quite important to me while Kitty's been growing up. When she's been off school I've taken her with me with her roller blades, and sometimes a friend, and she's been able to scoot around. The roads are all round the outside so it's very safe and it's great for a child to have that kind of freedom.
Kitty would go off and play and come back in an hour, have a drink and then go off again until lunchtime. As she was usually on her blades it meant that she couldn't really get up to any mischief – it was enough for her to skate about all day. It's difficult when you're working and conflicts with childcare arise but in this way it's been turned to an advantage for us.
Everytime I consider changing my job I think about how much I'd miss the campus. It's a lovely environment to work in with open spaces and well designed buildings. There are places to explore – walkways, slopes, covered bits and it's all well maintained. I was so pleased to come here from London – it's such a contrast and the University has been an important part of our family.