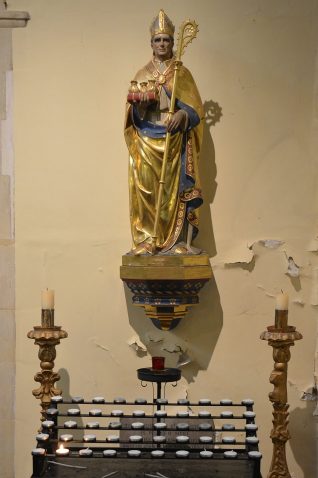 Born in the 3rd century
It is believed that Nicholas of Myra was born sometime around AD 280 in Patara, Lycia, an ancient area that is part of present-day Turkey. He lost both of his very wealthy parents as a young man, and reportedly used his inheritance to help the poor and sick. He later served as bishop of Myra, a city that is called now Demre. St. Nicholas is believed to have died on December 6, 345; in many churches the Feast of St Nicholas is still celebrated on that day.
Miracles and work for the poor
Over the years, stories of his miracles and work for the poor spread to other parts of the world. He became known as the protector of children and sailors and was associated with gift-giving; he is also known as the friend and protector of all those in trouble. Many of the legends of St. Nicholas involve him helping young people and the poor. A popular legend has it that three daughters of a poor merchant were about to be forced into prostitution since they had no marriage dowries, but St. Nicholas saved them from a life of sin by dropping three bags of gold into the merchant's garden or chimney (versions vary), enabling them to get married.
Statuette by Ninian Comper
The statuette of St Nicholas which stands outside the Lady Chapel, was designed by Sir John Ninian Comper (1864–1960) who was one of the last of the great Gothic Revival architects,. St Nicholas holds a bible in his right hand and on top of this there are three bags of gold. These may refer to the story described above, or it may refer to the fact that St. Nicholas is also known as the patron saint of pawnbrokers, who use three gold spheres as their sign.